Today is George Washington's 284th birthday. Some people seem to enjoy downplaying this great man, as well as other heroes (yes, heroes) in history. With national days for everything under the sun, from ice cream to hugging, isn't the founding father of America due some credit and honor? To honor President Washington, I'm sharing a poem by Francis Hopkinson, who lived in Washington's day. (And for you non-American readers: it's ok if you don't know much about Washington. If there's one thing you need to know about him, it's that he was amazing!)
Tis Washington's health-fill a bumper around,
For he is our glory and pride;
Our arms shall in battle with conquest be crowned,
Whilst virtue and he's on our side!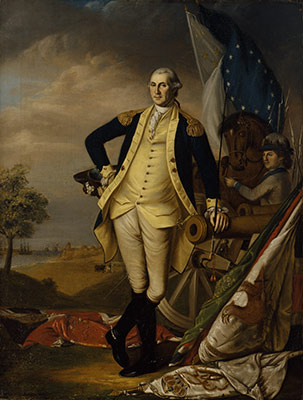 Tis Washington's health-loud canons should roar,
And trumpets the truth should proclaim;
There cannot be found, search all the world o'er,
His equal in virtue and fame.
Tis Washington's health-our hero to bless,
May heaven look graciously down!
Oh! Long may he live in our hearts to possess,
And freedom still call him her own.
Do you have a favorite hero from history?
Have you heard anything cool or interesting about Washington?