Hello dear readers, and happy May!
Miss March
was so very kind and tagged me for the Liebster Award with some amazing questions! Let the show commence:
Oh wait, there are rules first:
1. Link back to the person who tagged you.
2. Answer the 11 questions.
3. Tag 11 bloggers (and let them know you've tagged them).
4. Ask them 11 questions.
1. What is your personality type?
I am a mysterious sort of person, I am. Every time I take one of those personality tests, the letters change, or are all so close to 50/50 it hardly counts. It just
depends
so much on the situation! Last time I took one, I was ENTP. But I could be almost anything, I think.
2. What is one of your newest favorite movies? (As in one you recently found, not necessarily a newly made film.)
Hmm, I think
The Magic of Ordinary Days
is the most recent movie that I really liked but had never heard of before. It was really good, and you can see my review
here
.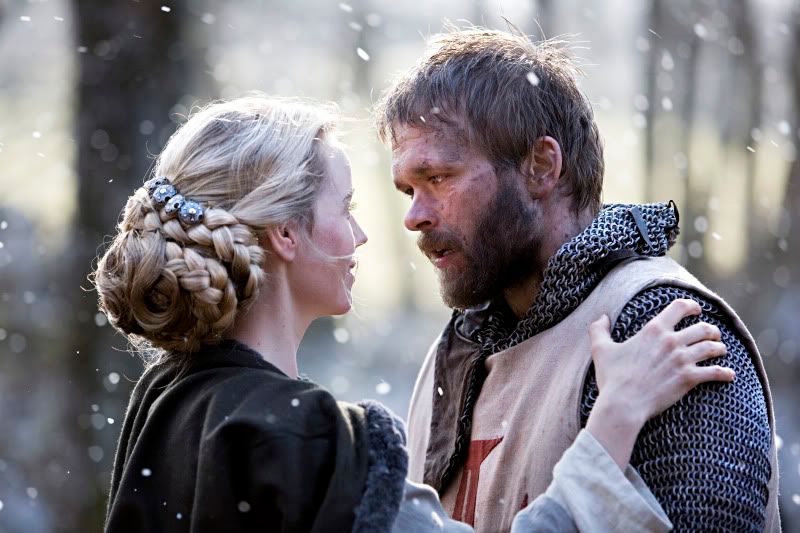 3. Have you ever been prejudiced against a certain movie before watching it, but then after seeing it decided it wasn't so bad? Which movie was it?
Pretty much any movie my brothers wanted to watch with pizza (in front of the TV on Sunday nights). I figured most "Boy" movies were boring or gross, but I was proven wrong on several occasions.
Star Wars, Gettysburg,
and
Arn
are good examples.
4. If you could meet any author in person, who would it be?
So, are we talking dead authors, or living ones? I'll give you both! :) For living, I'd like to meet Valerie Tripp, who wrote the
Felicity
books. For dead, I would like to meet Laura Ingalls Wilder. Or, if you think about it (and I don't mean this irreverently), how about God? I'd sure love to meet Him! Of course, God's not dead (
he's surely alive, he's living on the inside, roaring like a lion!
) *hem* I digress.
Not this many siblings, I can assure you!
5.How many siblings do you have, and where do you fall in the lineup?
*stares at computer screen*
"You should tell them."
"No, they would never forgive me."
"I want my readers to know."
"My siblings are private people. The internet is scary."
"Other bloggers have done it with varying degrees of privacy. I'm going to do it too!"
"Ugh. fine."
(My inner battle, in case you were interested.)
Ok, so anyway, I have a couple older siblings. And I was not fortunate enough to have a sister.That's all I'm saying for now, so make of that what you will. :)
6. If you could be related to any fictional character (from a book or movie) who would it be and what relation would they be to you?
These questions may be the hardest exam I've taken all year! ;) Hmm, let's see: the first thing that came to mind were the March sisters from
Little Women
. I'd love to have them as sisters! Otherwise, perhaps a Bennet sister (with Lydia and Mary removed).
7. What is your favorite household chore, and what is your worst?
I get a strange satisfaction from rearranging and condensing things in the kitchen cupboards and refrigerator. Although my own room is usually terribly messy, I sometimes get on a cleaning streak for other rooms in the house. My least favorite chore? Depends on when I'm asked to do it. Probably mowing the lawn (we have a motorless/muscle-power push mower) or shoveling heavy snow.
8. Anne and Diana (from Anne of Green Gables) are a classic example of best friends. Do you have a best friend, and if so which one of you is more like Anne and which is more like Diana?
Yes, I do have a "bosom friend!" She is more outgoing and exuberant than I, so I'd say she is Anne and I'm Diana. And our hair colors kind of fit the characters too. :)
9. What was one of the first chapter books you ever read?
All I remember is that by Kindergarten I had already read a few American Girl chapter books, which are really short, but chapter books all the same. I think I read a few Boxcar Children and Magic Tree House books pretty early on too.
10. What is one of the yummiest, most delicious desserts you can think of at the moment?
Need I say more?
11. If you could be a character in one of your favorite movies, which movie would it be and which character would you choose?
Aahh, decisions!! Off the top of my head, I could do Jo March or Elizabeth/Jane Bennett. *eeny meeny miny moe* Ok ok, Jo March from
Little Women
it is! (and now I don't have to endure Mr. Collins, thank goodness!)
This cracks me up every time!
And now for the hardest part: coming up with 11 bloggers who haven't already been tagged! (Alas, my social scope in the blogging world is still rather small) But I shall try my best!
Miss Dashwood
Phoebe
Heidi
Melody
Sadie
Rose
Aaand any of my followers or readers or anyone I may have inadvertently forgotten are more than welcome to answer the questions in the comments or on their blogs!
Now for zee questions:
What is your favorite decade of the 20th century and why?
Would you rather visit a giant library or a giant museum?
Do you drink soda, and if so, what is your favorite flavor?
Would you rather tour a famous castle or a stunning garden?
What kind of dancing do you like best? (Ballroom, swing, ballet, etc.)
Do you have a hope chest? What sort of things do you have in it?
Have you ever owned/used a typewriter? How about a quill pen?
Do you go to the library often, and do you have your library card number memorized?
What is your favorite piece of makeup you own?
What is your favorite blend of tea, and do you prefer iced or hot?
Do you share your birthday with anyone famous, past or present?
The End. :)