Living in the city has its perks. Our garbage gets picked up for free(ish. Not counting taxes). We don't need special sewage or water tanks. And best of all, the library is only a walk away. Want to know what's even nicer? Living in the city, and having a barn in the backyard.
That's right guys. I am literally living on the edge. The edge of town, that is. In some ways, it's awesome. But it brings up a bittersweet identity crisis: am I a town girl or a city girl?
First, let me explain about the barn. My house was built at the time all of our great-great grandparents were young, and when it was first constructed, it was a decent carriage ride away to the center of town. So naturally, the original builders were in the country, and planning to farm. And farm they did, I'm sure. They built a marvelous little carriage barn, enough to keep a few horses, cows, and chickens, and a carriage as well, to take them into town.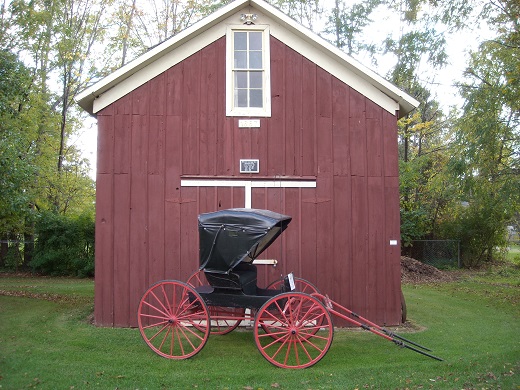 This is pretty similar to my barn. Minus the carriage.
There's a funny thing about towns, though. They grow. Before long, the town had reached that farmhouse, and made it become a townhouse. The farmland got parceled off to surrounding neighbors. But those farmers (or farmer's sons) held on to that little red barn.
Long story short, the barn stands today. City ordinances deny my wish to have a beautiful horse inside. But there are only a few more houses on the one side before one can follow the road into the countryside. And the country is nice.
The country is lovely, in fact. Where else do you find fresh air and simple living and wildflowers? Where else do you find lush forests and nature trails? Where else, my friends, do you find herds of cows and horses, and fields of corn waiting to be harvested?
No matter how hard those urban farmers may try, the answer is nowhere.
So some days, I feel ready to pack my bags, marry a farmer, and live a simple, natural, wonderful country life.
But.
Where else can you find the culture, elegance, and sophistication of a city? I know of no marble farms or barnyard orchestras. How could I live without access to pillared concert halls, art exhibits, and museums? I would long for the glamorous, glistening rush of city life. I would miss the chance to glide up escalators and shop in stores with chandeliers.
So as you can see, I'm in a little pickle here. I've been envious of both the farm girl and city darling growing up, and now I'm pulled by the two forces as I begin planning my future. Perhaps I could give my condition the formal name of Edge-of-Town Syndrome, and classify it as "a longing to participate in both country and city life".
Now that I've huffed and puffed and ranted at you all 'till you're bored as buttons, I don't know how to end this except by stomping off in a fit of frustration. (I have no compassion on my own nerves!) But every blog post needs a happy ending, so I'll suffice it to say that whether I live in the country, city, or somewhere in between, I will be happy. Fortunately for us, God is with us, no matter where we live.:)